My son and his mates took off over to the other side of the nearby creek to do a bit of mountain bike riding and came back to tell me they'd found an injured kangaroo. I sent a couple back to keep an eye on it (from a distance so as not to panic it) and rang WIRES, (NSW Wildlife Information, Rescue and Education Service) to get a rescue team to come out and assess it.
I rang the number and the dispatcher's voice answering was terribly familiar and when I gave my name, it turned out it was a friend of mine I've known since our teens and we'd lost touch over the last couple of years. So, 'It's a small world' instance one.
So, back to the poor kangaroo.
I went down and took a look at it and it turned out to be a pretty big eastern grey buck, around 5'6" tall, so quite a handful to wrangle and injured enough that he couldn't hop away, but able to rear up and kick out if feeling threatened. Please note: a roo this size can easily break bones, disembowel and generally hand out quite serious injuries, so you have to treat them with caution and the respect their strength deserves.
Here's a couple of pics to give you an idea of what you're up against if a roo has a go at you:
Here's a good view of their hind claws, the centre one being the really nasty one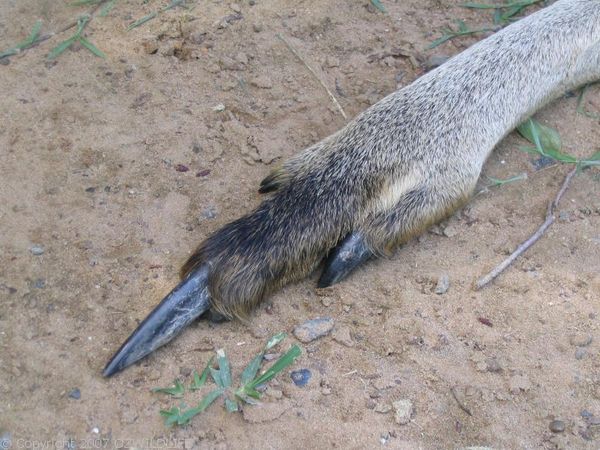 And here's how they use it. They can also grab you with their front claws so you can't get away and rake you with their hind ones (I know, it happened to me once)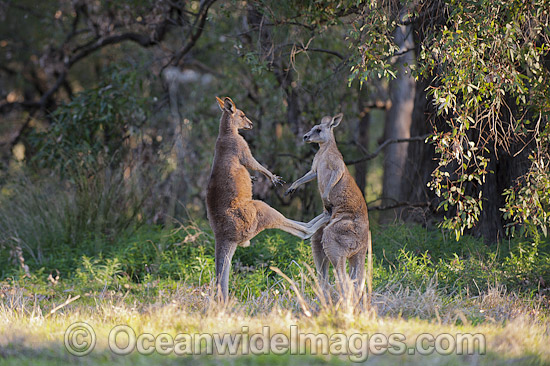 Just so you know they're quite dangerous if you get their backs up.
When the woman rescue assessor rang me to say she was nearly here, I filled her in on the situation and the size and sex of the roo. Once again, the voice sounded very familiar, but I really didn't think too much about it at the time.
Anyway, when she shows up, she turned out to be the very nice woman who did the conveyancing on my house. She'd liked the area so much after handling me buying my place that she'd packed up and moved out here too and now lives about 15km from me in another little hamlet.
So, it really is a small world, isn't it?
(
The sad part
Collapse
)
I had a strange and rather sad afternoon/evening today.
He's 16 and just gotten his motorbike learner's permit and a 250cc road bike to go with it. When he got it, I offered to teach him basic maintenance and upkeep, which he politely refused (I'm just an old lady to him, don't ya know - a nice one he likes and often asks for other mechanical, wood or metalwork advice when he gets stuck or to borrow tools from, but this is
man's stuff... oh boy...
)
How did I save his life (or at least his brakes)?
My son came and asked me if the kid next door could borrow my WD40. I was busy doing something and just said yes and carried on with what I was doing. Suddenly, I thought I'd better ask what he wanted it for, so called my son back. Boy, am I glad I didn't underestimate the stupidity of boys who feel they automatically know all about mechanics because they carry the XY gene.
It turns out he wanted to spray it on his front and back brake disks, pads and callipers because they'd been "squealing", before he took himself out for a nice, long, downhill most of the way on a truck filled highway, run into Sydney.
My son had just handed it over the fence to him, so I bolted at top speed,yelling 'NO! STOP!' and caught him just in time. He had the straw out, ready to saturate the callipers and pads, with the next stop being the disks.
When I told him why he shouldn't do it, his next question was "What if I use engine oil, or maybe some grease?" ...@_@
It took three goes of explaining how brakes worked to get it to finally sink in, but I fear he still really didn't believe me or how serious the consequences could have been.
The squealing was from some corrosion on his disks, which I cleaned for him and a piece of grit on one pad. He'd dropped it on a dirt road a few days ago and I'd told him to check, but I'm a female, so what would I know? Luckily, it hadn't scored his disk too badly, but I told him to keep an eye on it, which I doubt he'll do. I told him he really needed new pads as his are pretty worn, but he basically poo poo'd that - he really hasn't a clue.
I told his mum what happened and she was really unfazed by it all - it seems she hasn't a clue either.
How did he get grit in his brakes?
His mates all have trail bikes and this one of his is a real roadie - not unlike the old Ducati 250's in balance, which makes it quite a bit front heavy compared to a dirt bike. I warned him that while great for road riding, it could be treacherous on the dirt, as the front end can go out from under you quite easily should you hit a sandy or rough patch of dirt road, and the clearance, of course, is quite a bit lower than a dirt bike, so you have to consider that too.
I warned him, but did he listen?
Of course not.
He took the bike on some local rough trails with his mates and promptly lost the front end and dropped it quite heavily, breaking his indicator, mirror, faring and denting his tank, ploughing his disk into the dirt, not to mention ruining his previously pristine paint job and getting grit in his brakes. He also lost a bit of skin, but luckily nothing too severe. It's actually amazing he didn't end up with a really razzed front brake, but luck was on his side, as it was today when I thought to ask what he wanted the WD40 for.
I've begged him to at least get a manual on basic motorbike maintenance. I really hope he at least does that.
He still won't ask me for help, I know, and I must admit, at the moment I'm hoping he only ends up ruining his bike and not killing himself because god knows what else he's done to that bike that I don't know about.
I'm sure if I were male, he'd not only listen, but gratefully accept my offer of help and lessons. Then again, maybe not - but I do think that me being female is a factor.
I don't claim to be an ace mechanic, but I admit I'm not bad. I don't do much any more other than maintenance on my own cars and if I feel I'm not up to the job, I'll get advice or help, but I've had a bit of experience from a fairly young age. I started helping my cousin work on his cars and bikes, avidly watching him and driving him mad with questions when I was about eight. I started off as his gopher and progressed from there to his assistant and eventually to him letting me do a few things on my own. I loved it and he was a very patient and good teacher.
(
Some of my experience, which you're most probably not interested in...waffle, basically.
Collapse
)
I'll admit to being a bit rusty now I'm not as obsessed with my old hobby, but I do still have a few skills.
Meanwhile, at the other end of the spectrum, my son, who I've tried to get involved in basic mechanics since he was little to no avail, finally did something with me on the car a few days ago... he actually got under and undid the sump plug for me when I changed the oil - and he even complained about that. I'm hoping now that he'll be getting a car soon, he'll change his tune, at least when it comes to basic things like oil changes, lubes, sparkplugs and leads etc, or he'll be up for a lot of money spent on services. I had to practically duck walk him to the engine bay to show him how to check the oil, water, transmission and brake fluid. At least he knows where they are now and where to put what - always a handy thing to know (double entendre fully intended).
At the moment, his reasoning for not learning anything else is that I know how so I can do it for him. I think he's in for a rude shock - lol!
I more than likely saved my next door neighbour's kid's life today or at the very least his braking system - ain't no big thing.
rangerishot
and having just enjoyed The Day of the Doctor 50th Anniversary special (twice!) plus An Adventure in Space and Time, a surprisingly good drama on the early days of Doctor Who with David Bradley (Argus Filch, Walder Frey in GOT plus many, many excellent roles) as William Hartnell, how could I not do this meme?
Turns out I'm the 11th doctor:
I honestly didn't know what to expect as a result, but seeing as I, too, think fez's are cool and can't walk past a fez either without wanting to wear it, I reckon it's a pretty fair cop.
And a fez related musical interlude by a wonderful band called the Dynamic Hepnotics:
I did the meme via ranger's post and couldn't put the link to the meme here, but here's the link to her post:
http://rangerishot.livejournal.com/32677.html
Happily bleating away in the footsteps of




Such clever dogs - and trainer, of course! They look so pleased with themselves once they'd finished and thoroughly enjoyed the routine, by the look of it!
My sister sent me this and I just had to post it:
Anyway, here's one that I've wondered about for years, since we went over to the AU$ in 1966 actually:
Where the word dollar came from and where and how the unit of currency originated. It was one of those things I'd wonder about, mean to look up and then never seem to get around to. I found out the origin of the word a while ago, but had never gotten around to finding out the rest. I finally did a little search around today and found a few different sites and pages, but this one covers the basics of the history quite well.
I'm not vouching for all the info as I haven't done enough research, but what they have here sounds about right.
Anyway, it's a fascinating little read that may want you to delve into certain aspects deeper, if you feel so inclined. Not a big read, but an interesting one.
Here's the link:
http://projects.exeter.ac.uk/RDavies/arian/dollar.html
In case anyone's interested, here's some pics of our, to my mind, very pretty and easy to discern polymer (hasn't been paper in yonks) and coin money:
(
money money money .... (feel a bit LIza Minelli now)
Collapse
)
I have a dragnet mentality, I'll admit it. Over the years, I've often wondered, then found out about many things for no other reason than they've come to mind and I'm naturally curious. It's often led me in some really fun and interesting directions.
teddyradiator
's post of handy hints has inspired me to share a few of mine (hope you don't mind, m'dear).
I'll just stick to mainly cleaning ones for now, but I may add a few in another post.
Many of these a lot of you will no doubt know, but it never hurts to share.
I don't like using too many chemicals or proprietary cleaners in my house cleaning. I'm not fanatical, but, having had kids, you think about the toxicity and then there's the cost factor. I've also found that often, the simplest and least toxic are also the most efficient. I have a spinal injury, so I've also found ways around doing some of the things that can be hard on your back, so I've added a couple of these, too.
(
Cleaning Tips
Collapse
)
I'm actually far from anal about my housekeeping and my house is hardly ever pristine, but these tips really do work and work well. It's nearly always messy but never filthy, although it does tend to grub up more often than I'd like to admit.
With all of this knowledge, you'd think my house would always be clean, wouldn't you? Go figure.
*Waves '
I Am The Parent Of A Grotty Teen
' flag furiously*
My son just called me out to the back yard so I could watch what seemed to be quite a sizeable meteor in the western sky, heading roughly from south to north. It was quite beautiful, as it was sunset and so the tail took on the colours. My son, never too far from a camera, took some video, so if it turned out well, I'll post it a bit later. I'm assuming it was quite sizeable because of it's apparently slow speed across the sky from our viewpoint - meaning it would have actually been quite a way away, so given it's size in the sky, I'd say it was fairly big. Not planet buster big, thank heavens, but a good size. Going by it's angle of descent (from eyeball estimation) we may even end up with an impact! Be interesting to see where it lands, if it doesn't burn up beforehand.
I LOVE hardware stores. I try to steer clear, because I can literally spend a whole day in one, lost in the spendour that is building materials, fastenings, plumbing supplies, paint, tools, pressure washers... you name it, I'm a sucker for it.
We have a new(ish) big chain one in town which I've avoided for several reasons, the main one being that because of exclusivity contracts the chain takes out with suppliers, my old, trusty local family owned one that had been running for over one hundred years was forced to close.
I was devastated as this was a hardware store that you could still buy one nail if you wanted, Very little was prepackaged and, best of all, the father and son that owned and ran it actually KNEW things - you could ask advice, have a chat about different methods of doing things, experiences with products or projects and if there was a cheaper and/or easier way to do something without sacrificing quality, they'd tell you about it... I loved it and them.
(
The saga of the hardware store
Collapse
)
So, I suppose I'll get used to this new hardware store that is more like a dept store or supermarket, and I can't say it wasn't a nice trip, but I still long for my old, trusty, slightly grubby but oh so helpful and well stocked old one.
But a junkie has to get her fix somewhere, so I'll make do I suppose.
Some women love to shop for clothes, some shoes, some, makeup, skncare, toiletries etc.
teddyradiator
described it as
'Seriously fun, and deliciously wicked....wonderfully Seussian, in a very warped and twisted way!'
, which I took as a great compliment!
It's called Bedtime and here's a pic to get you in the mood:
(
Bedtime (mwahahahaha)
Collapse
)
Hope you enjoyed it and Happy Halloween!
A dark, rather mean but humorous poem I wrote a couple of years ago just popped into my head and it's quite fitting for Halloween, so I thought I'd post it. The lovely
It looks like my son will be in lolly heaven for a few days - I've had the total of 2 kids come calling and it's nearly 8pm and most of my callers are littlies so are usually done by about now.